Zucchini (Courgette) is an Italian word for squash. It is a kind of vegetable that is rich in nutrients and vitamins. It is included in so many traditional and modern recipes. It can also be included in salads. Like any other plant, growing zucchini is a very satisfying process.
If you're planning to know how to seed a zucchini plant from scratch you need to know a few basic steps which will allow this process to be easier for you and more fruitful.
What is great about the zucchini plant is that you can plant it at any time of the year if you live in a warm place. However, during cold weather, then you probably should wait until it gets warm or plant it indoors. The perfect time for seedling a zucchini plant is the time prior to summer, spring. 
The warm sun of the spring allows your baby seedlings to get some sunray kisses without damaging them in order to go through a proper Photosynthesis process.
The Steps
In order to grow a healthy zucchini plant you should follow these simple few steps:
When purchasing the zucchini seeds, try to look for good quality, such as the ones which will grow to be full and not skinny. The price should be the same, but the quality differs. 
You need to make sure that the soil is rich in minerals and organic matter for better and faster growth. Using Peat (also known as "Turf" and "Tourbe") is highly recommended. Peat is composed of decayed fruits and veggies or carbon-based compounds. It helps the seedling process tremendously, it makes it faster and healthier. However, that doesn't mean that the normal brown soil doesn't work. It works just fine, but not as good. 
Tilling the soil is a very crucial step, you don't necessarily need an expensive tool for that, a simple pickaxe will do the job. Just make sure that you till it very well and check if the soil doesn't have the harmful kind of worms which eat the seedlings.
Next, wet the soil slightly making it damp. Then pot a hole in it, not too deep and not too close to the surface. And put 1 zucchini seed inside if you have the good quality kind, or put in each hole 2 to 3 seeds if you only have the average quality. 
Make the seeds 20-30 centimeters apart so that each one can get the appropriate nutrients individually. No one is taking the other's meals. Since we're at that, be very aware that any fruitful plant wants to be alone and doesn't enjoy the company. So no lawn or any other plants should be around it, especially fungi.
After that, cover the seeds with soil very gently, do not push too hard and water it a bit, not too much otherwise the seed would choke and wouldn't be able to flourish properly.
If you want the zucchini to grow naturally, the process from seeds to a plant can take up to 11-12 weeks to produce fresh zucchini. However, the process can be speeded if you make sure to add the appropriate vitamins and fertilizers regularly. I personally recommend when you look for fertilizers that include 20% phosphorus, 20% potassium, and 20% nitrogen. Phosphorus makes the plant grow stronger and healthier and faster. 
The pictures below show you the first-week progress of the plantation: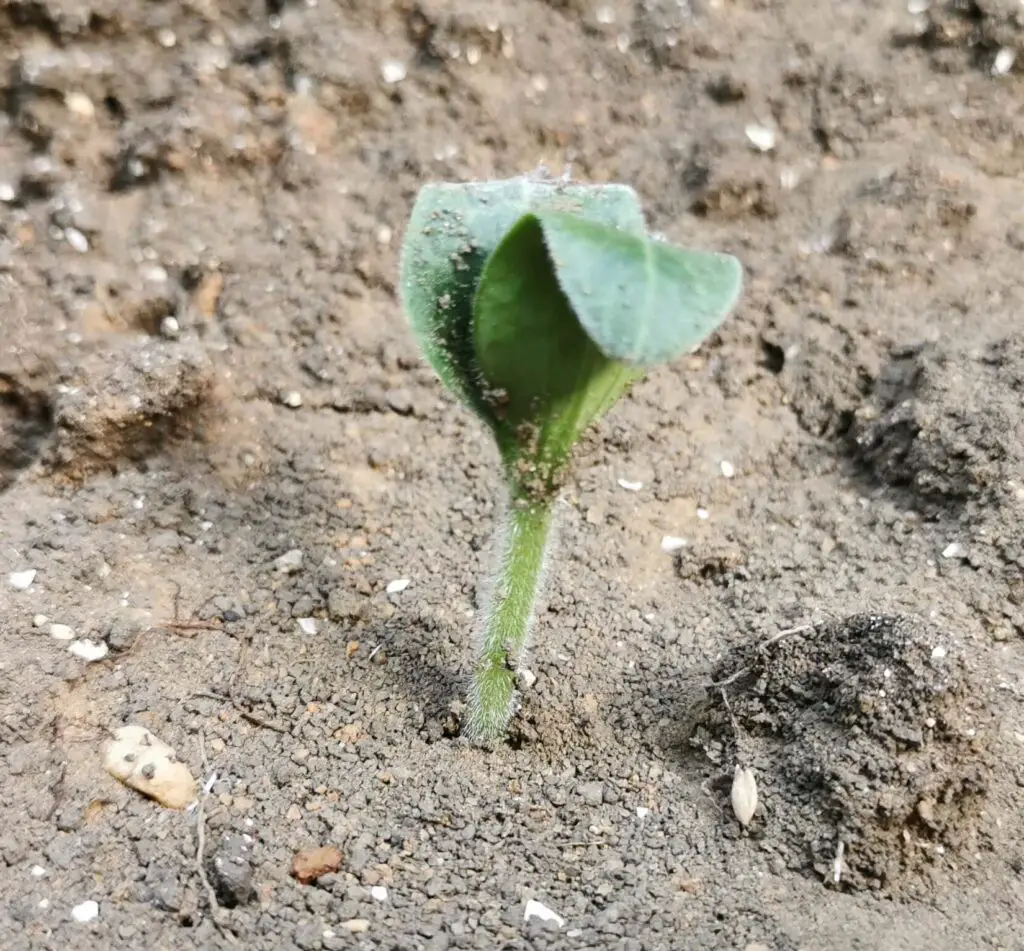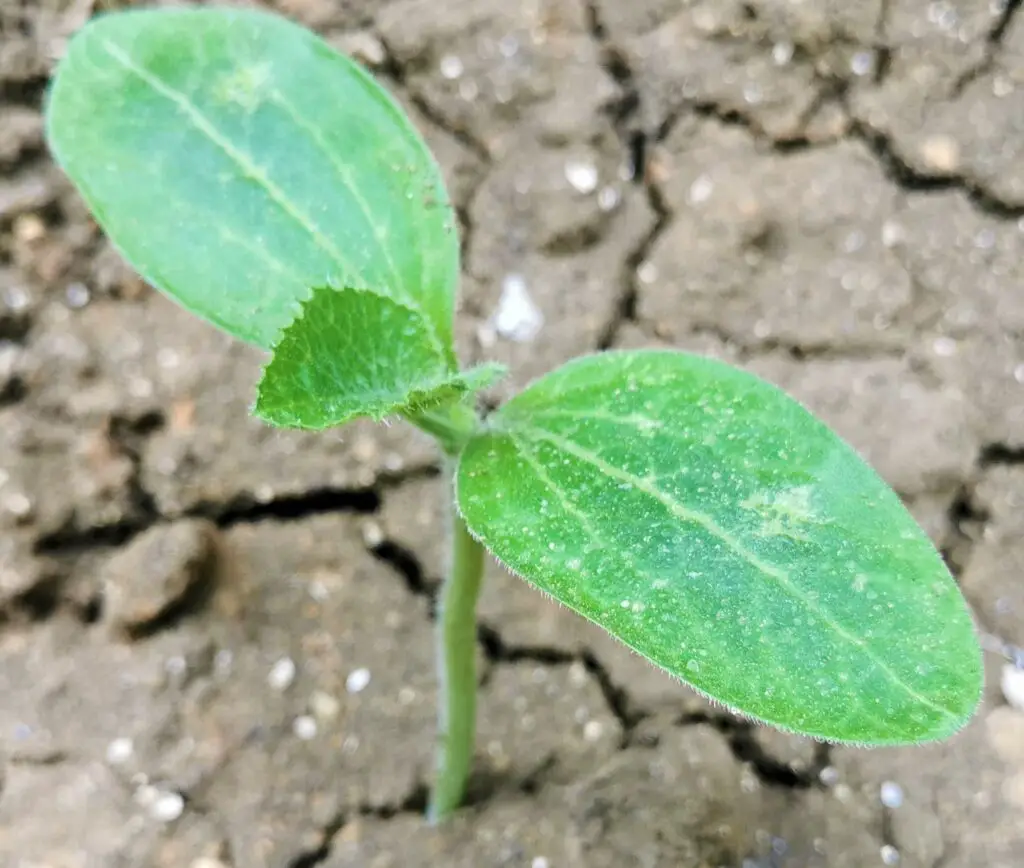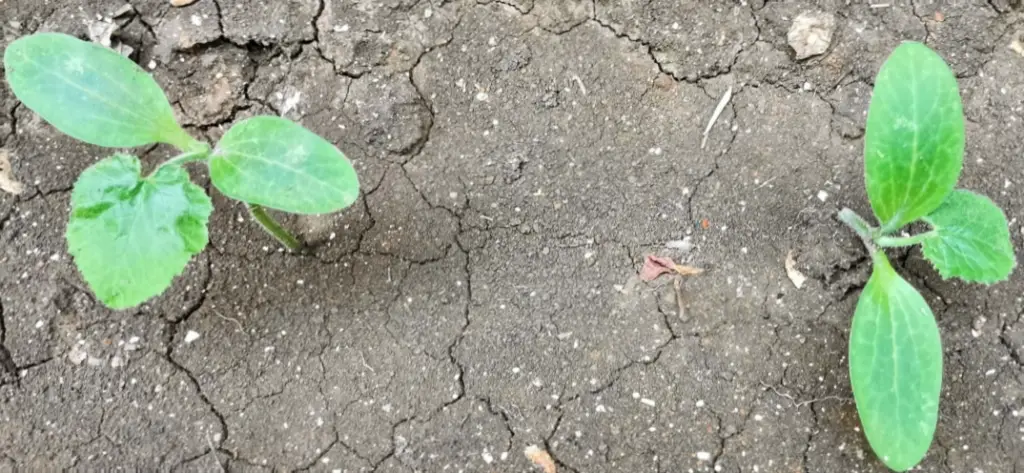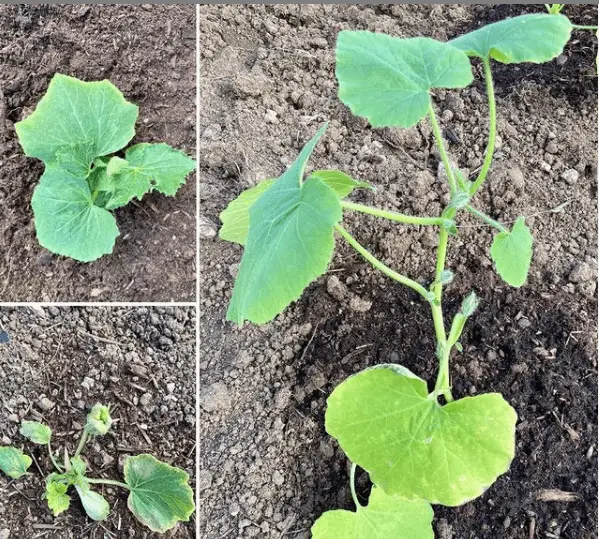 Please note that you cannot add any vitamins or fertilizers at the beginning. You can do that after the seedling produces 2-3 leaves like presented in the picture below: 
How Much Does One Zucchini Plant produce?
One single zucchini plant can produce from 10 to 15 pounds (4-6 kilograms). It really depends on the quality of the plant and how you take care of it. The zucchini plant is really easy to grow at home. It doesn't require a large space as its height grows only 2 feet long (60-65 centimeters) and it expands horizontally spreading to the maximum of 2 and a half feet wide (80~ centimeters)

The video below will show the time-lapse of growing zucchini in 78days.
Things You Should Avoid while Planting the Zucchini Plant
There are few DIY videos that go around the internet saying that you should soak the seeds overnight, which is incorrect. The zucchini seeds shouldn't be soaked in water or put in the freezer, they are planted directly into the soil. 
Do not water the soil before putting your seed in, the watering process should be done afterward. 
Avoid using small pots because the zucchini plant needs space and a lot of sunlight. 
Don't plant your seed near any lawn, as the lawn attracts many insects. Those insects might cause great damage to the plant.
Avoid excessive watering as the zucchini plant should be watered once in two-three days in a warm atmosphere and daily in very hot weather. During winter, it is highly recommended to plant it indoors otherwise it wouldn't be able to complete its Photosynthèse cycle.