Basil has many different varieties. One of them is lemon basil. Not so many people know this variety, but it is definitely a must to have at home because not only do all kinds of basil bring positive energy to the owner, but they also taste really good.
Lemon basil is a herb, also known as Hoary Basil, or Lao Basil. It originated in northeast Africa and south Asia. This herb is a hybrid combination of sweet basil (Ocimum americanum ) and African basil (Ocimum basilicum .)
What is Lemon Basil
Lemon basil is an annual plant. From the beginning of summer to fall, it blooms white flowers. Those flowers contain seeds. When the flowers turn brownish in color, That means that they can be planted. So, if you want to have a perennial lemon basil plant, you can just plant those seeds in a pot filled with soil and there you go, you will never run out of lemon basil.
This wonderful annual plant is similar to mints. Its stems have the ability to grow up to 20–40 cm tall. Lemon basil leaves are flat and smooth with have pointy ends. They are not as shiny as Sweet basil as you can see in the picture below. The plant is more similar to the African basil in texture. However, in color, lemon basil is as green as sweet basil.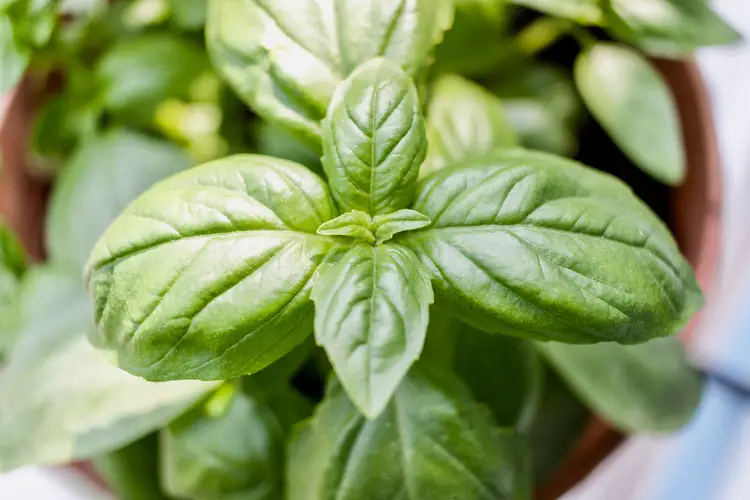 What Does Lemon Basil Taste Like
Lemon basil has a strong refreshing limonene aroma. It tastes very lemony with a little bit of sweetness. However, the fallen leaves tend to lose their scent and flavor after only a couple of days. So if you're planning to use it in the cuisine, make sure to pick it fresh. Also, a great tip for cooking with lemon basil would be to always add it at the end as the flavor reduces when cooked. I personally use it mostly in salads and as a finishing garnish for plates.
What is Lemon Basil Used for
Lemon basil is definitely edible. It is mostly used in Thai, Arabian, Indian, Indonesian, Laotian, Persian, and Malaysian cuisines. It can be used in so many different recipes such as pesto, grilled chicken, and fresh salads. Additionally, it is of great use as an herbal tea.
Lemon basil like any other basil is considered a repellent for flies and mosquitoes. Basil, with all of its different varieties, is one of the best natural pesticides out there.
You can purchase the lemon basil plant either online or in Asian shops. Though, if you want to grow it from the seeds, they are also available online and in almost every agriculture shop.
Lemon Basil Health Benefits
Lemon basil herb is also used for healing purposes as it has many benefits
It is a great source of beta-carotene.
It contains vitamin A which is really good for the eyes, and also, functioning mucus membranes.
It contains vitamin K which helps heal wounds quickly. It also helps with blood clotting and developing healthy bones.
It also contains small portions of vitamin C, magnesium, iron, manganese, copper, and calcium.
It contains anti-inflammatory properties due to the limonene and Citral components.
Lemon basil herb makes an amazing essential oil. It has a lot of benefits you can read them here.